A Unioverse Anthology: Tales of the Reconvergence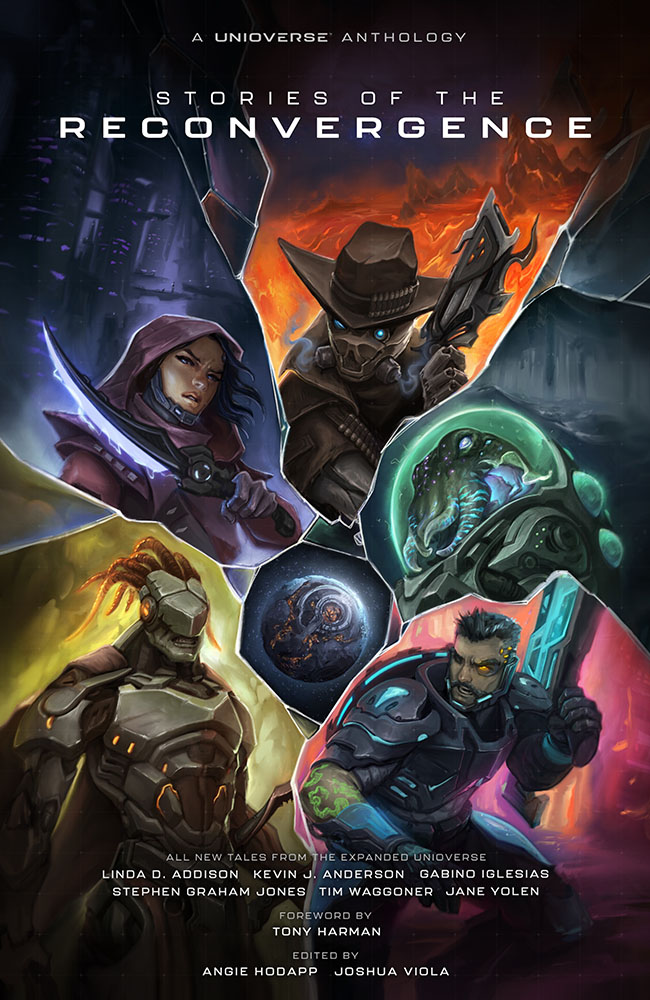 In the year 2145 AD, Malcolm Orion, destined to go down in history as the Brave Traveler, made his historic jump through space, launching his consciousness across the universe. His arrival at an abandoned space station reawakened the Masson Zero—a vast system of instantaneous travelways connecting innumerable worlds, many inhabited by sentient life.
Now, 500 years later, worlds long isolated from each other are once again connected. This anthology presents tales of this reconvergence. Set on richly imagined planets scattered across the cosmos but linked once again by near-instantaneous travel, these stories introduce you to characters—human and otherwise—navigating love and loss, alliance and intrigue, violence and betrayal, and, most of all, the joys and perils of exploration and scientific discovery. Accept the invitation. Step into a transpod of your own and slip through the Mass-O. You never know where you'll end up.
Edited by: Angie Hodapp and Joshua Viola
Original illustrations by Stuart Jennett
Cover by Aaron Lovett and Stuart Jennett
Published by: Hex Publishers and Random Games
"An expansive SF anthology featuring stories and poems that will leave readers excited for the larger project."

—Kirkus Reviews
"Filled with thrilling adventures, complex characters, and imaginative worlds. Sure to leave you on the edge of your seat."

—Dave Jones, Game Designer of Grand Theft Auto, Lemmings, and Crackdown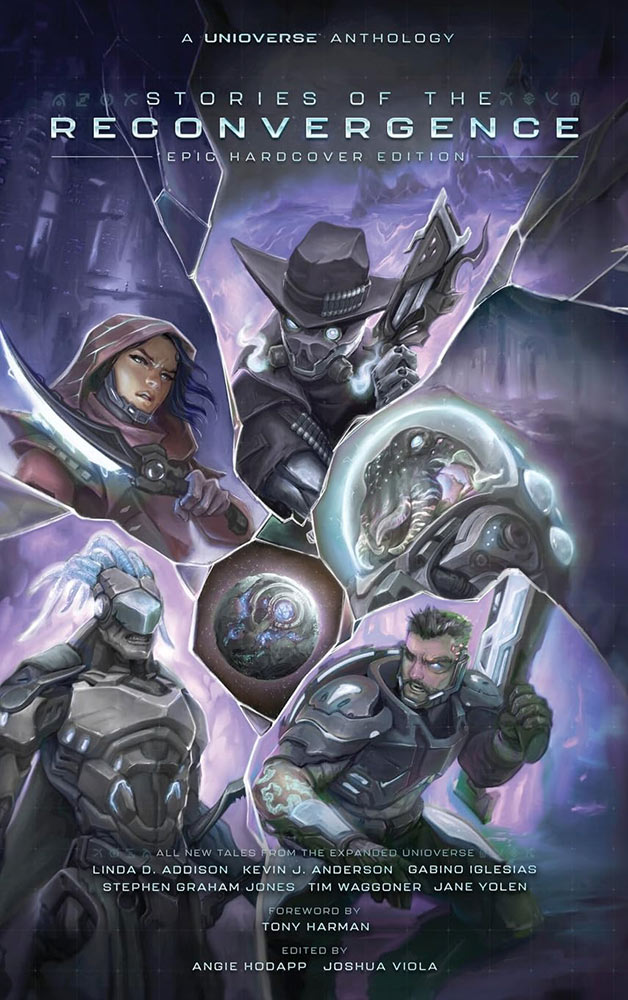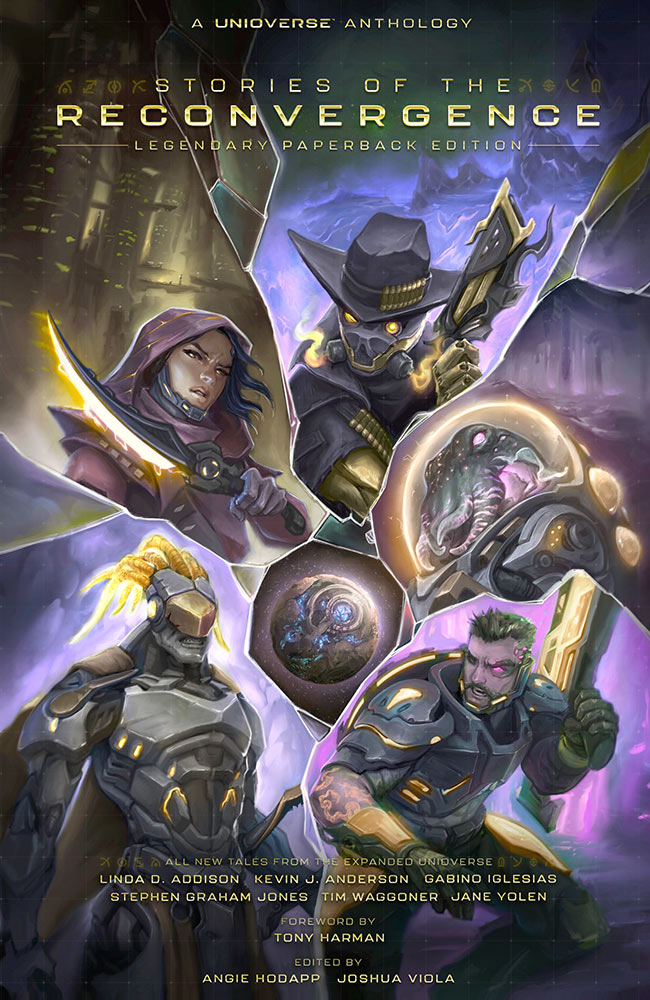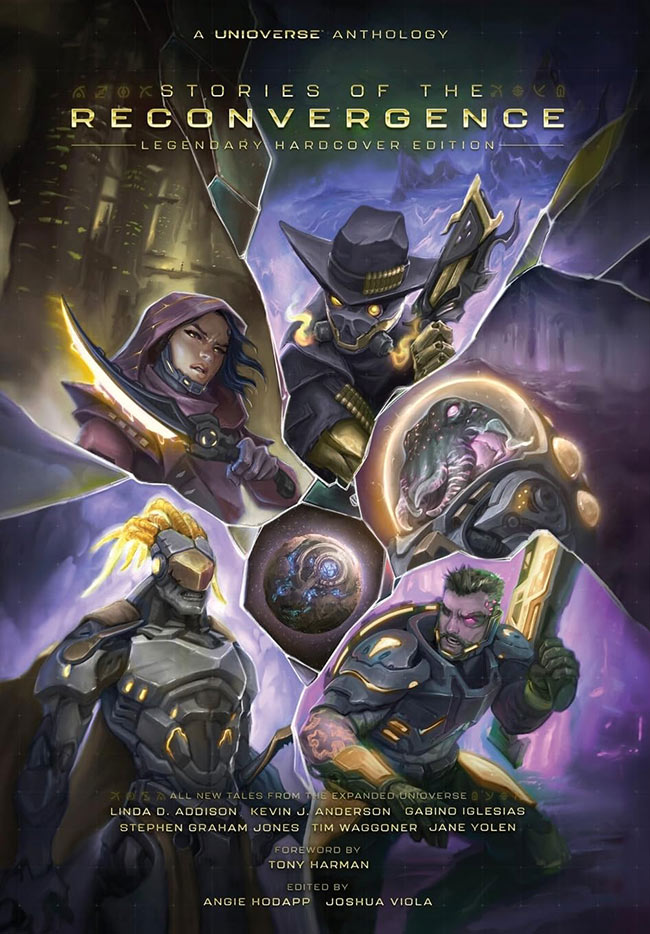 For more information, visit the Unioverse website and join the Unioverse Discord Server.
Learn more about the Unioverse team here.
Contributors [+]
Mario Acevedo • National bestseller, Colorado Book Award winner
Killing the Cobra, The Nymphos of Rocky Flats, X-Rated Blood Suckers, University of Doom
Linda D. Addison • Bram Stoker Award winner, Horror Writers Association (HWA) Lifetime Achievement Award winner
Black Panther: Tales of Wakanda, Classic Monsters Unleashed, Predator: Eyes of the Demon, The Place of Broken Things
Kevin J. Anderson • National and international bestseller
Dune, Spine of the Dragon, Star Wars, X-Files, Zombie P.I.
Andy Baker
The 7th Portal, The Accuser, The Backstreet Project, House of the Dead
Carina Bissett • Colorado Book Award winner
HWA Poetry Showcase, Shadow Atlas, Upon a Twice Time
Kenneth W. Cain • Splatterpunk Award finalist
Darker Days, Embers, A Season in Hell, Tales from the Lake
Kevin Dilmore
Amazing Stories, Famous Monsters of Filmland, Rainbow Bright, Star Trek, The Village Voice
Sean Eads • Colorado Book Award finalist, Lambda Literary Award finalist, Shirley Jackson Award finalist
Classic Monsters Unleashed, It Came from the Multiplex, Lord Byron's Prophecy, Nightmares Unhinged, Shadow Atlas
Brent Friedman
Call of Duty, Halo 4, League of Legends, Star Trek: Enterprise, Star Wars: The Clone Wars, The Walking Dead
Maxwell I. Gold • Rhysling Award nominee
Bleeding Rainbows and Other Broken Spectrums, Oblivion in Flux, Shadow Atlas
Warren Hammond • Colorado Book Award winner
Denver Moon, It Came from the Multiplex, KOP, Nightmares Unhinged, Shadow Atlas, Tides of Maritinia
Angie Hodapp • Colorado Book Award finalist
Cyber World, False Faces, It Came from the Multiplex, Shadow Atlas, Shadow Atlas, Tooth & Claw
Jamal Hodge • Vanguard Award winner
Chiral Mad 5, Penumbric Magazine, Space and Time Magazine
Akua Lezli Hope • Elgin Award winner, Writer's Digest Award winner
NOMBONO, Otherwheres, Them Gone
Gabino Iglesias • Bram Stoker Award nominee, Locus Award nominee, Wonderland Book Award winner
Zero Saints, Coyote Songs
Stephen Graham Jones • New York Times bestseller, Bram Stoker Award winner, Ray Bradbury Prize
Earthdivers, My Heart is a Chainsaw, The Only Good Indians
Matthew Kressel • Nebula Award finalist, World Fantasy Award finalist
King of Shards, Queen of Static
Lee Murray • Bram Stoker Award winner
Grotesque: Monster Stories, The Path of Ra, The Taine McKenna Adventures
Wyeth Ridgway • Game Developer
Lord of the Rings, Pirates of the Caribbean, , South Park, Terminator
Jeanne C. Stein • Bestselling author of the Anna Strong Vampire Chronicles
Joshua Viola • Denver Post bestseller, Colorado Book Award winner, Splatterpunk Award nominee
The Bane of Yoto, Blackstar, Classic Monsters Unleashed, Cyber World, Denver Moon, It Came from the Multiplex, Nightmares Unhinged, Pirates of the Caribbean, Shadow Atlas, Target: Terror
Tim Waggoner • Bram Stoker Award winner, Shirley Jackson Award finalist
Alien, Halloween Kills, Resident Evil, Supernatural
Dayton Ward • New York Times bestseller
24, Mars Attacks, Planet of the Apes, Star Trek
Carter Wilson • USA Today bestseller, Colorado Book Award winner
The Comfort of Black, The Dead Girl in 2A, The Dead Husband, Mister Tender's Girl
Jezzy Wolfe
Insidious Assassins, Monstrum Poetica, Shallow Waters, Zippered Flesh
Jane Yolen • Nebula Award winner, World Fantasy Award winner
The Devil's Arithmetic, Lost Girls, Owl Moon, Sister Emily's Lightship
Alvaro Zinos-Amaro • Hugo Award finalist, Locus Award finalist
Equimedian, Traveler of Worlds: Conversations with Robert Silverberg, When the Blue Shift Comes