The Bane of Yoto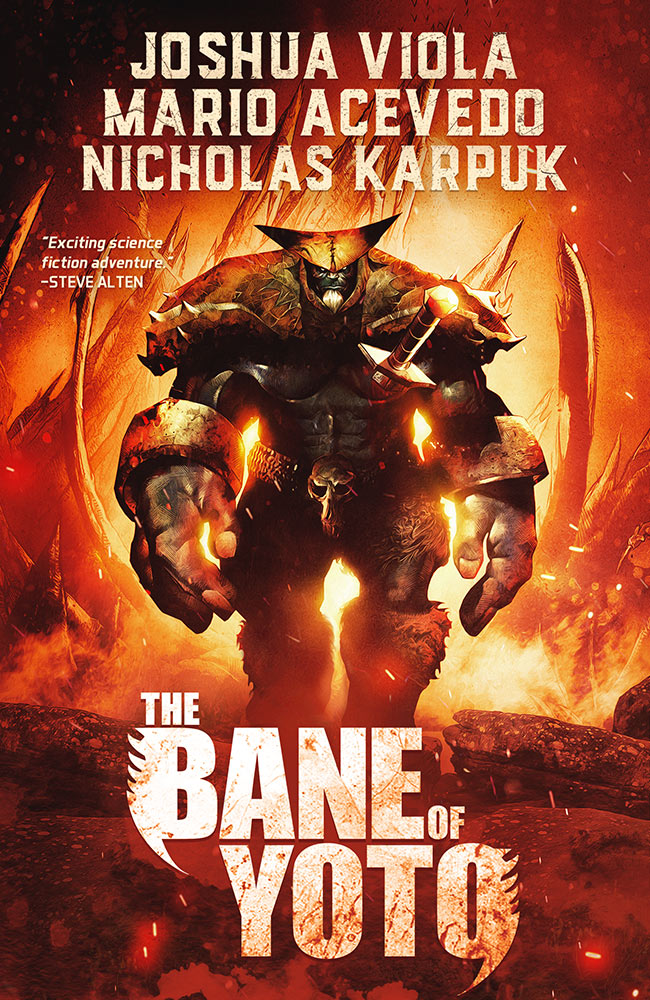 Some say the Arbitrators existed long before the universe was born. Others believe their dark powers spun the fabric of time itself. They are mystery. But here is truth: After ages of formless existence, the Arbitrators craved physicality once more. Their hunger sparked a great fire—a blaze that found its shape in the form of a dagger capable of transmitting their essence into a living vessel. In their search for a worthy body to inhabit, they destroyed the world of the gentle numah and the combative olokun.
But not all was lost.
General Vega and his vile olokun warriors enslaved the remaining numah and relocated them to a thriving moon where they were forced to toil in endless strife.
Cycles later, two numah brothers, Eon and Yoto, witnessed the slaughter of their parents at Vega's whim. Eon vowed vengeance, while Yoto sought a timid life in hopes of drawing no attention from their cruel overlords. But when an alien witch dispatches a minion to bury a mystical dagger in Eon's heart, thereby granting him the Arbitrators' power and the ability to defeat Vega, it is Yoto who is stabbed. Now, Yoto's days of cowardice are over. He is transformed into a monstrous creature of tremendous strength and intellect.
But will Yoto become the heroic liberator of his people—or the cause of their total annihilation?
"[A] superhero mix with Conan the Barbarian and Star Wars."

—JASPER DE JOODE Fantasy Book Review
"Heavy Metal meets Gladiator with a dash of Star Wars, The Dark Crystal, and the brutal violence of Robocop."

—PAUL CAMPION Weta Digital
"This is widescreen fiction. It's in your face larger than life, and refuses to be ignored."

—JC HUTCHINS author of 7th Son: Descent
"A mammoth dark-fantasy epic overflowing with monsters, brutal battles, and oceans of blood."

—GREGORY BURKART FEARnet
"A science-fantasy epic."

—KEITH FERRELL New York Times bestselling author of History Decoded
"Exciting science fiction adventure."

—STEVE ALTEN New York Times bestselling author of Meg
"An epic, vivid, and gory SF revenge tale with graphic-novel undertones. Fans of kaijin and kaiju media should approve."

—Kirkus Reviews
"The Bane of Yoto crosses genres to appeal to sci-fi and fantasy and horror readers alike, promising high-octane adventure mixed with a series of revelations about social and individual barriers, responsibilities, and potentials for becoming greater than anyone originally envisioned."

—Midwest Book Review
"This is pure pulpy pleasure—a cult classic."

—Blueink Review
"A striking new edition of a superior pure-pulp science fantasy adventure."

—Booklife by Publishers Weekly
By Joshua Viola, Nicholas Karpuk and Mario Acevedo
Cover art by Nick Runge and Tyler Kirkham
Paperback ISBN: 979-8-9862194-3-1
Hardcover ISBN: 979-8-9862194-4-8
eBook ISBN: 979-8-9862194-5-5
For instructions on how to install and use eBooks, please view our guide.