Denver Moon: The Minds of Mars (Book 1)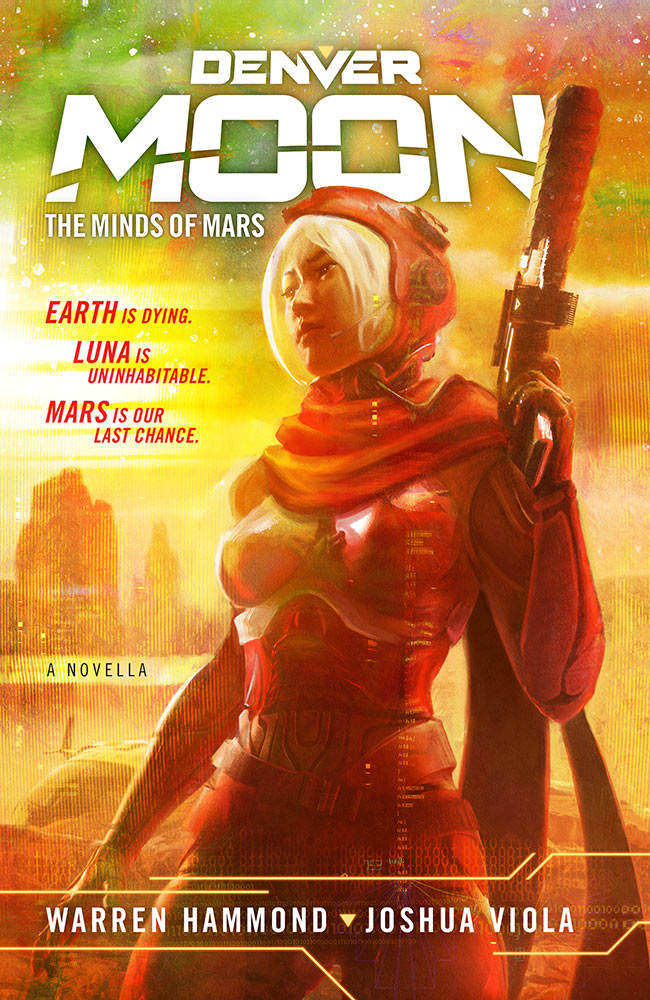 Once considered humanity's future home, Mars hasn't worked out like anybody hoped. Plagued by crime and a terraforming project that's centuries from completion, Mars is a red hell.
Denver Moon, P.I., works the dark underbelly of Mars City. While investigating a series of violent crimes linked to red fever—a Martian disorder that turns its victims into bloodthirsty killers—Denver discovers a cryptic message left by Tatsuo Moon, Mars City co-founder and Denver's grandfather. The same grandfather who died two decades ago.
Twenty-year-old revelations force Denver on a quest for truth, but Tatsuo's former friend, Cole Hennessy, leader of the Church of Mars, has other plans and will stop at nothing to keep Denver from disclosing Tatsuo's secrets to the world.
Hell-bent on reclaiming her grandfather's legacy, Denver—along with her AI implant, Smith, companion android, Nigel, and shuttle pilot, Navya—set out on a quest to find the answers they hope will shed light on the church's true agenda, the origin of red fever, and the mysteries surrounding Tatsuo's tragic death.
Join Denver Moon on her debut novella.
Colorado Book Award Finalist.
Hardcover ISBN-13: 978-0-9986667-2-3
Paperback ISBN-13: 978-0-9997736-6-6
eBook ISBN-13: 978-0-9986667-3-0
Read the Comics
Visit the official Denver Moon website.
Praise [+]
| | |
| --- | --- |
| | "...recommended for all fans of speculative mysteries." |
"Take the Mars of Total Recall, the cybertech of Ghost in the Shell, the noir of Blade Runner, the action of Cowboy Bebop, and accelerate them to twelve times Earth escape velocity, then you will find yourself with the pure awesome joy that is Denver Moon."

—

Mathew Kressel

, multiple Nebula Award and World Fantasy Award finalist
| | |
| --- | --- |
| | "Denver Moon: The Minds of Mars combines Blade Runner and the original Total Recall with a dash of old-school detective noir that is hard to put down and leaves the reader wanting more." |
"This is Mars done as well as Elton John did it, as well as John Carpenter did it, as well as Total Recall did it. Move over, Andy Weir. Step aside, John Carter. Denver Moon is swaggering into this red landscape, and her footprints in the dust, they're going to last a few generations, I'd say."

—

Stephen Graham Jones

, bestselling author of

Mongrels

and

Mapping the Interior
"A searing mystery with a superlative, gun-toting protagonist."

—

Kirkus Reviews

(Starred Review)
"Denver Moon: The Minds of Mars is noir sci-fi at its best. A powerful story that is hard to put down and highly recommended for mystery and sci-fi fans alike.""

—

D. Donovan

, Sr. Reviewer,

Midwest Book Review
"Crisp and compellingly told, Denver Moon is a high-tech, mystery-packed tale of our Mars-colonized tomorrow. Fans of Andy Weir and James S.A. Corey should take note."

—

Jason Heller

, Hugo-winning editor and author of

Strange Stars
"A tense story of a well-imagined Mars where belief is more powerful than a gun."

—

Richard Kadrey

, bestselling author of

Metrophage

and the Sandman Slim series
"Enthralling action, a compelling mystery, and a uniquely gifted protagonist—all against the cyber-futuristic backdrop of a thoroughly bloodstained Mars. Denver Moon may be monochromatic, but by the time you're through with her hard-boiled, A.I.-powered adventure you will have seen every shade of red there is."

—

Alvaro Zinos-Amaro

, Locus and Hugo Award finalist
"With a richly imagined and well-balanced mixture of Mickey Spillane and Philip K. Dick, the stories of Denver Moon deliver thought-provoking excitement, cunning twists, and deeply human characters (even the androids!). Put this on your must-read list."

—

Carter Wilson

,

USA Today

bestselling author
"An Immersive kaleidoscope of futuristic treachery, mayhem, and murder."

—

Mario Acevedo

, author of

Rescue from Planet Pleasure
"A world where the boundaries between AI and humanity have blurred. A voyage destined to shape the fate of life on Mars. Full of unexpected twists, this excellent sci-fi narrative leaves you hungry for more."

—

Jeanne C. Stein

,

New York Times

bestselling author
"This is one trip you have to take, from Martian fever to the ultimate fate of the human race."

—

Robert E. Vardeman

, author of

Darklight Pirates

and

God of War
| | |
| --- | --- |
| | "...reminiscent of the original Total Recall: full of odd characters, dark passages and seedy levels of living beneath a harsh environment." |
| | |
| --- | --- |
| | "This is cinematic science fiction, moving at a fast pace and building up a complex world." |
"Gene-splice Raymond Chandler's mean streets with Leigh Brackett's Mars, weave in some slyly subversive thinking about AIs and religion and you'd be about at the place where Denver Moon starts. And it starts fast, then speeds up. A new noir take on a classic science fiction setting, populated with memorable characters, most of them less than nice. I hope we see more of Denver Moon."

—

Keith Ferrell

, former editor-in-chief of OMNI Magazine.
"Readers looking for adrenaline-fueled and downright fun literary escapism should look no further than Denver Moon."

—

BlueInk Review

(Starred Review)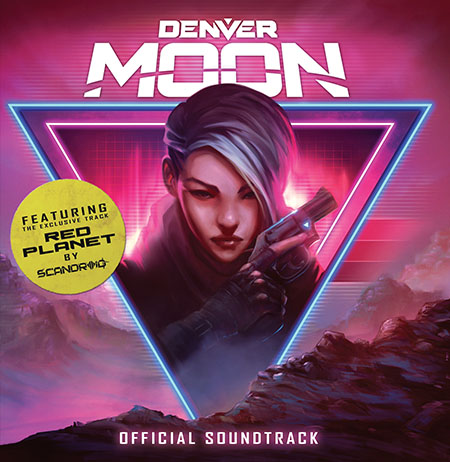 Denver Moon: Official Soundtrack
With music by Celldweller, Scandroid, Blue Stahli, Voicians, and FreqGen.
Featuring the exclusive track "Red Planet" by Scandroid.
The Landing (Celldweller): 1:31
Track Preview:
Red Planet (Scandroid): 4:36
Track Preview:
Oblivia (Scandroid): 4:45
Track Preview:
Cyberpunk Dominion (Blue Stahli): 1:57
Track Preview:
Monochrome [Instrumental] (Scandroid): 4:53
Track Preview:
Singularity (Scandroid): 3:40
Track Preview:
Jericho [Instrumental] (Celldweller): 5:18
Track Preview:
Afterglow [Instrumental] (Scandroid): 5:23
Track Preview:
Future Bloodline [Instrumental] (Scandroid): 4:45
Track Preview:
Terra Firma (Celldweller): 1:55
Track Preview:
Holograms (Voicians): 3:58
Track Preview:
Endless Time [Previous One] (FreqGen): 1:50
Track Preview:
For instructions on how to install and use eBooks, please view our guide.