StokerCon™ 2021 Souvenir Anthology: The Phantom Denver Edition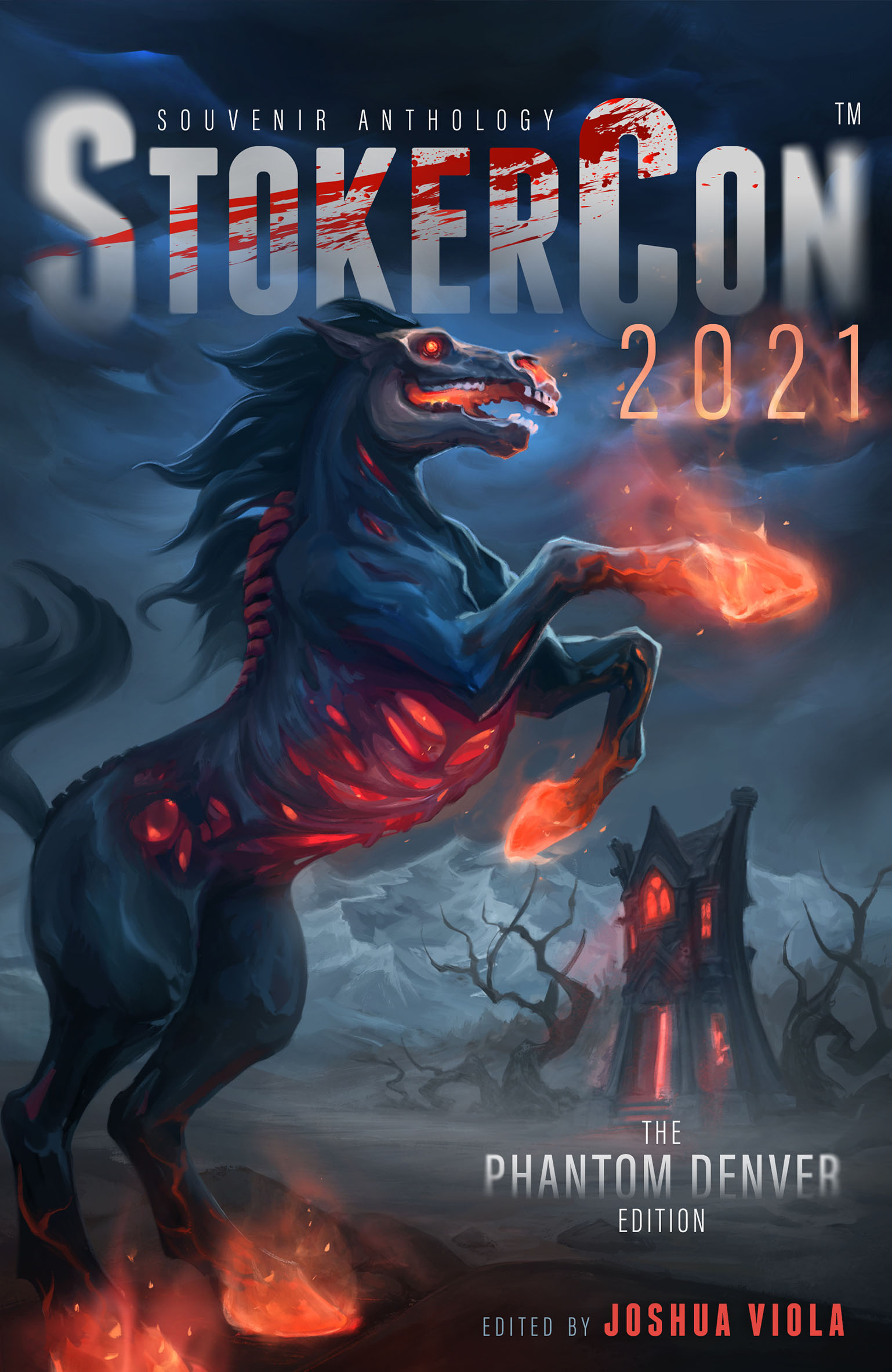 Limited Release: Book Only Available to StokerCon™ 2021 Attendees. Visit the StokerCon™ 2021 for more information.
You're about to discover a state of horror and suspense, where ancient evils lurk in the Rocky Mountains and a classic novel inspired by a certain Colorado hotel continues to scare and thrill. Where the towering statue of a cobalt blue mustang with demonic red eyes rears back and dares you to cross its path. Its name is Blucifer, and it demands a sacrifice.
What secrets does it guard? What omen does it portend? What dark stories does it inspire?
This souvenir book delves into the mystery, offering original tales and poetry about the sinister statue written by some of the best horror talent in the state. You'll also find essays and anecdotes offering introductions to Colorado's horror community and insight into the writing and publishing process. Dive deeper into these dark pages and discover author interviews, Lifetime Achievement Award winners, the 2020 Bram Stoker Awards® Final Ballot, and, of course, our Guests of Honor, whose names have been scrawled in blood:
Maurice Broaddus • Joe R. Lansdale • Seanan McGuire • Silvia Moreno-Garcia • Lisa Morton • Steve Rasnic Tem
With Contributions by:
Mario Acevedo • Meghan Arcuri • Carina Bissett • Michele Brittany • James Chambers • JoAnn Chaney • Denver Horror Collective • Nicholas Diak • Hillary Dodge • Kirk DouPonce • Sean Eads • Alec Ferrell • Warren Hammond • Travis Heermann • Jason Heller • Angie Hodapp • Stephen Graham Jones • Sam Knight • Jonathan Lees • Aaron Lovett • Jonathan Maberry • Brian W. Matthews • John Palisano • Bret Smith • Jeanni Smith • Jeanne C. Stein • Becky Spratford • Molly Tanzer • Joshua Viola • John Wenzel • Jeamus Wilkes • Carter Wilson • Dean Wyant • Alvaro Zinos-Amaro
Edited by Joshua Viola
Cover art by Aaron Lovett
Release date: 5/20/21
Published by Hex Publishers in association with the Horror Writers Association
ISBN: 978-1-7365964-0-1