Nightmares Unhinged
---
The Denver Post Number One Best Seller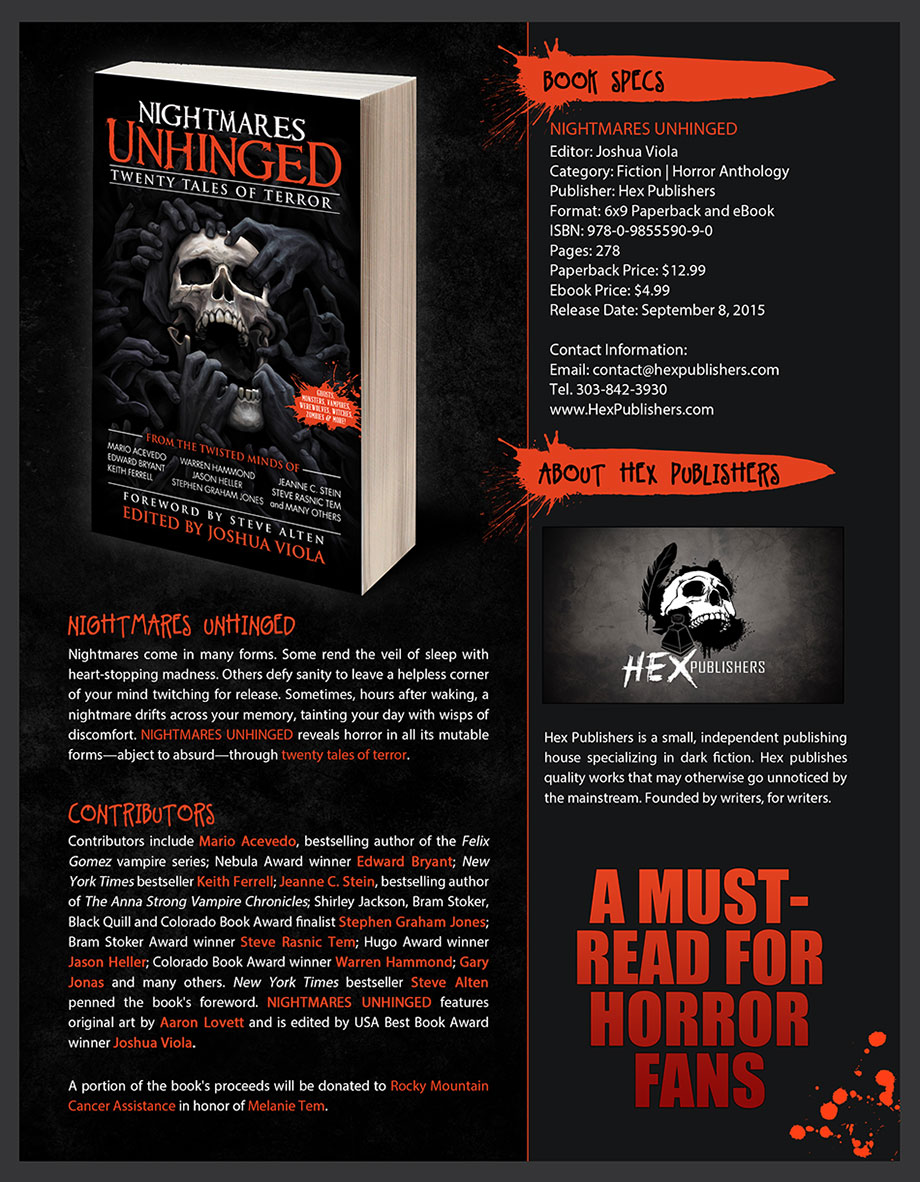 Download the Nightmares Unhinged sell sheet.
Featuring an impressive line-up of speculative fiction luminaries—Mario Acevedo, Jason Heller, Jeanne C. Stein, Steve Rasnic Tem, Warren Hammond, etc.—this stellar collection of twenty nightmare-inducing short stories is appropriately titled: it's a check-underneath-the-bed-before-you-go-to-sleep kind of anthology.
—Paul Goat Allen
Poe, Lovecraft, King—step aside for the new kids on the block who bring goose bump horror and pit-of-the-stomach dread to stories of the modern world and the future. Ebola in the heartland, an Iraq veteran with a problem, a high school bully who gets his due, a librarian with an exclusive clientele, a far-future alien race that delights in cruelty–the stories in Nightmares Unhinged deliver creepy surprises, sweat-inducing fear and chilling revulsion. These are stories by masters at their peak, stories you will still be thinking about long after you've laid down the book.
—Jesús Treviño, director of Star Trek Voyager, Star Trek Deep Space Nine and Babylon 5
What is fear? It is many different things for each individual. What Joshua Viola has done in this anthology is touch on every exposed nerve one might have. Like a master chef in his kitchen, Viola manages to put together a delicious dish of 'Macabre Under Glass.' Some of the dishes may be challenging and new to your palette, but it is a many splendored meal with each course displaying its own variety of flavors. It was truly satisfying and yet, now, I am hungry for more even though I have a terrible time sleeping with such a full belly.
—Jonathan Tiersten, actor Sleepaway Camp
The sheep you so desperately count into slumber are about to sharpen their teeth, burrow into your brain and infest your dreams.
—Mark Henry, author of Battle of the Network Zombies
With a delicious story for seemingly every fear, Nightmares Unhinged features a treasure of writers—both established and rising—who know how to peel away all layers of protection and dig into your deepest phobias. These stories will leave you fascinated, vulnerable, and truly considering leaving your bedroom light on at night. If you are looking for short story horror at its creative peak, Nightmares Unhinged is a must-read.
—Carter Wilson, author of The Comfort of Black
This collection of chills by Colorado authors takes a retro, Twilight Zone approach to horror and offers it in a distinctly Western mood. There's a nostalgia to this book's type of creepy; fans of old-fashioned, midnight horror will enjoy. Best read after dark.
—Stant Litore, author of The Zombie Bible
Get ready for blood, terror and the unexpected in Nightmares Unhinged, a devilish anthology from a cast of superb writers.
—Mike Befeler, author of Mystery of the Dinner Playhouse and The Paul Jacobson Geezer-Lit Mystery Series
Recommended doses of terrific and terrifying tales, Nightmares Unhinged is the perfect remedy for feeling just a little too cozy and secure.
—J.L. Abramo, award-winning author of Gravesend
Less a collection of stories and more a warning list of places never to be—the library, fields with scarecrows, Mexican bars, the dentist, work parties, your neighbour's house, and if you're male and play golf, don't you ever, ever go looking for your balls under a bridge. A lot safer to just stay at home and read this book.
—Paul Campion, director of The Devil's Rock and VFX Artist for The Lord of the Rings Trilogy, Constantine and Sin City
From the moment you open Nightmares Unhinged, it chokes the air from the room and leaves you holding your breath until you finally close its pages. Unfortunately, no matter how hard you try, you'll never get rid of that sinking feeling it will leave with you.
—Josh Danforth, Celldweller Productions
Nightmares Unhinged has stories that will frighten even the most thick-skinned reader.
—Cat Zingano, UFC Bantamweight Number One Contender
For instructions on how to install and use eBooks, please view our guide.